AVT - Pneumatic Locomotives and vehicles for operation in explosive atmosphere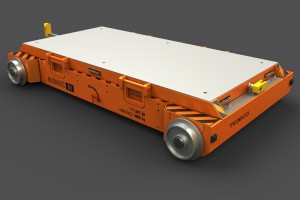 Pneumatic Locomotives serves for manipulation in explosive atmosphere with explosive factor ATEX II up to 420 t of Load capacity. Mostly used in Painting and Blasting shops. Vehicles are equipped by own Pneumatic drive.
Pneumatic Rail vehicles are produced in following types. This line can be extended according to customer requirements.
Type
Loading capacity (t)
Standard size of Platform (mm) width x length
Gauge (mm)
AVT
20, 30, 40
1450 x 2500 in "locomotive" option
2000 x 3000, 3500
2000 x 4000, 5000, 6000
3000 x 6000
1435
Technical description
Floor steel plates - counterweight
Frame
The connection of pneumatic Remote Control
Axle
Fixing hook to fix another vehicle
End Stops
Each vehicle is equipped with set of passive safety elements. Passive elements such as Protective frame around the car and a color differentiation increase the safety of the operation.
Technical parameters
| Parameter | Value |
| --- | --- |
| Length (mm) | See table of produced typed |
| Width (mm) | Viz See table of produces types |
| Height (mm) | from 350 up to 720 |
| Gauge (mm) | 1435 |
| Surface treatment | Polyurethane paint |
| Upper Platform | Steel sheet, Plywood rubber coated |
| Accessories I. | Locking points, Safe bunks |
| Accessories II. | Drum with cable |
Advantages
easy manipulation and simple Control
cooperation with leading manufacturers guarantees long life time if used components
high Safety
possibility of Platform modification according to customer requirement
rigid structure
Certificates and documentation
Declaration of Conformity
Guarantee Card
Operating and Maintenance Manual
All vehicles are designed according to EU standards.
Accessories
mechanical

Locking Pins
Safe bunks
Reel with Hose
possibility to integrate the Reel onto vehicle