AKV - Accumulator Wheeled Vehicle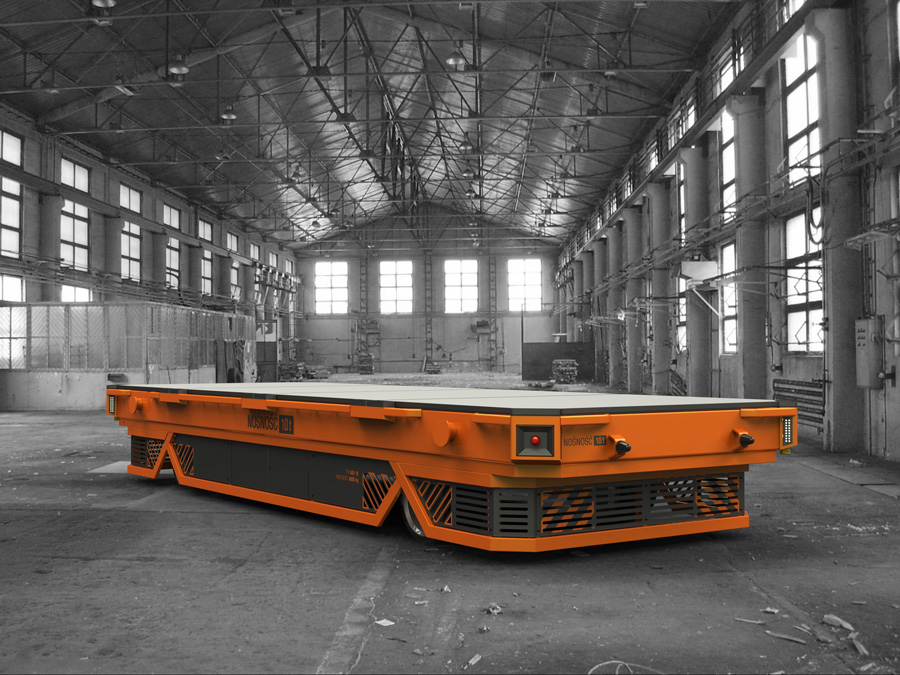 Use
The most frequent use is inter-operation transportation, because the vehicles are independent on rails. Vehicles may transport loads between 3,5 to 30 tons. Vehicles are offered with or without chassis leveling. Vehicles often cooperate with hall crane system, weighing system or they may move without operator´s supervision. Vehicles significantly shorten inter-operative times of transport among halls and workshops. Further they are used for long-distance rides but especially with diesel engine. Vehicles are able to work in temperatures between -20 °C to +40 °C. The most frequent use is press-shops, transports of steel constructions, turbines, heavy tools, concrete structures, wind power plants pillars, rotors and so on.
Further option is tandem-use of vehicles. This arrangement represents a ride of two platforms in a distance of e.g. 30 meters controlled by one remote control. This way of movement is used within transport s of long weights e.g. rod material.
Produced lines
Accumulator vehicles are produced in the following lines. The line may be extended upon customer request.
TYPE
LOAD (t)
STANDARD PLATFORM SIZE (WIDTH x LENGHT, in mm)
AKV
1-steered axle
3,5, 5
3000x2000x500
4000x2000x500
4000x2000x720 higher battery capacity
AKV
1 or 2-steered axles 10, 15 "Riding on the radius"
10, 15
5000x2000x840
6000x2000x840
AKV
1 or 2-steered axles 20, 30 "Riding on the radius"
Each wheel steered "sideway riding"
20, 30
2300x4500x840
2300x6000x840
3000x6000x840
Technical parameters
Platform boards - plywood with rubber coat
Frame
Switchboard door cover
Cargo fixing points
Fixing points for lifting and vehicle transport
Axle
Emergency stop button
Rubber ends
Protective frame around the vehicle
Light and sound signaling
Each AKV vehicle equipped with an accumulator conforms to a set of Standards valid within EU and Russia. An active set of safety elements comprises of safety sensors (stopping the vehicle in case of collision danger) and "4 TOTAL-STOP" buttons placed at vehicle corners (if pushed, the vehicle stops immediately). A passive set of safety elements comprises of LED illumination, protective frame around the vehicle and various colors of vehicle´s parts, which help in increasing of operation safety.
The surface finish is made of two-compound polyurethane paint. HOPAX Ltd. designers guarantee that all vehicle parameters conform to current EU and Russian Standards. . In case of export to third countries, the product conformity is solved in cooperation with Certification Body TUV SUD individually. The part of each vehicle delivery is Operational Manual in given language including Declaration of Conformity.
The AKV vehicles may be operated with either one or two steered axles. If both axles are steered, the vehicle rides on the radius. If each wheel is steered, it is possible to ride sideways or spin around the axis. The vehicles are driven by radio remote control.
Vehicle riding possibilities
Technical parameters
| PARAMETER | VALUE |
| --- | --- |
| Length (mm) | See "Table of produced types" |
| Width (mm) | See "Table of produced types" |
| Height (mm) | Od 500 do 1000 |
| Surface treatment | Polyurethane paint |
| Upper Platform | Steel sheet, Plywood rubber coated |
| Accessories I. | Turntable, Locking Pins, Pole, Safe bunks |
| Accessories II. | Smart card reader, Remote control, LED lights, Anti-collision safety sensors |
| Accessories III. | Battery Wi-Fi module, Electrolyte blow-through (Lead-acid battery or Gel maintenance-free battery) |
| Accessories IV. | Sensors deblocation |
Advantages
Easy manipulation and simple control
Cooperation with leading manufactures guarantees long life-time of components used
Low operation costs
Maintenance-free batteries
High safety – active and passive
Possibility of platform customization upon customer request
Minimal load distribution
Rigid construction
All vehicles are designed according to EU Standards.
Accessories
Mechanical

Poles
Safe bunks
Locking pins
Turntable
Anti-slip floor
Lifting upper platform

Electricity and Battery

Sensors unblocking
Horn
Wi-Fi battery module
Electrolyte blow-through (Lead-acid batteries)
Gel batteries
Tandem control of two vehicles together
Fully- automatic operation

Safety

LED Lights
Smart card reader
Remote control
Safety sensors