AV - Accumulator Rail vehicle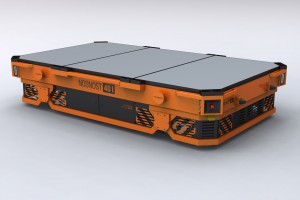 Utilization
Self-propelled working Platforms are produced in standard version with Load capacity from 10 t up to 40 t. It is possible on the request of customer to produce this platforms with Load capacity up to 300 t. It is possible to use them as Assembly Desks, Manipulation vehicles and Platforms, which can be used as vehicle and Locomotive all at once. Another use is as manipulation between working places and production halls and many other applications. The advantage is the simple transport independent on external Power supply. The disadvantage is the battery charging. User comfort and safety is our priority. For these reasons, the batteries are dimensioned by driven meters, not Load capacity. Most vehicles are used as interoperation of heavy duty parts.
Accumulator Rail vehicles are produced in following types. This line can be extended according to customer requirements.
Type
Loading capacity (t)
Standard size of Platform (mm) width x length
Gauge (mm)
AV
10, 15
2000 x 3000, 3500
2000 x 4000, 5000, 6000
1435
1435
AV
20, 30, 40, 50
2000 x 3000, 3500
2000 x 4000, 5000, 6000, 8000
3000 x 6000
1435
1435
1435
Technical description
Platform boards - plywood with rubber coat
Frame
Cover of Switchboard
Fixing points for cargo
Fixing points for lifting and transport of vehicle
Axle
Emergency Stop Button
Rubber Ends
Protective frame around the vehicle
Light and Sound signaling
Each vehicle is equipped with a battery, which is subject to meet standards applicable in the EU and Russia. If the customer is located out of these territories, it is solved individually. Each vehicle is equipped with a safety passive and active sets of elements.
Active safety kit consist of sensors that stop the vehicle if detects possible collisions and 4 Emergency-STOP buttons located at the corners of the vehicle. When the Emergency Stop Button is pushed down, the vehicle Stop immediately. Passive elements such as a set of LED lights, Protective frame around the car and a color differentiation increase the safety of the operation.
Vehicles are painted with two-component Polyurethane paint. The chassis is not suspended due to low handling speed 35 m / min. For loading capacity over 50 t is necessity to use Yoke axles for steady spread of forces to the chassis rail. Designers guarantee all parameters according to current applicable EU standards. Part of delivery is Operating manual in relevant language and Declaration of Conformity
Technical parameters
| Parameter | Value |
| --- | --- |
| Length (mm) | See table of produced typed |
| Width (mm) | See table of produced typed |
| Height (mm) | from 500 up to 720 |
| Gauge (mm) | 1435, 1520 |
| Surface treatment | Polyurethane paint |
| Upper Platform | Steel sheet, Plywood rubber coated |
| Accessories I. | Turn table, Locking Pins, Pole, Safe bunks |
| Accessories II. | Smart Card Reader, Remote control, LED Lights, Safety Anti-collision sensors, Inductive sensors to stop the vehicle in End positions, Automatic ride |
| Accessories III. | Wi-Fi, Lead-Acid batteries electrolyte blowing-through or Gel maintenance-free batteries |
| Accessories IV. | Sensors unblocking, Horn |
Advantages
easy manipulation and simple control
micro travels for precise manipulation under Crane
smooth start and braking
cooperation with leading manufacturers guarantees long life time if used components
low operational cost
maintenance - free batteries
High battery life in operation
high safety - active and passive
possibility of Platform modification according to customer requirement
rigid structure
Certificates and documentation
Declaration of Conformity
Guarantee Card
Operating and Maintenance Manual
All vehicles are designed according to EU standards.
Accessories
mechanical

Pole
Safe bunks
Locking Pins
Turn table
Anti-slip floor
Lifting Upper platform
Loading rigs for example for Coils

Electricity and Battery

Sensors unblocking
Horn
Wi-Fi
Lead-acid Batteries with Electrolyte blowing
Gel battery
Tandem control of 2 vehicles together

Safety

LED Lights
Smart Card Reader
Remote Control
Safety sensors
Inductive sensors to stop the vehicle in End positions