Industrial Turnkey Halls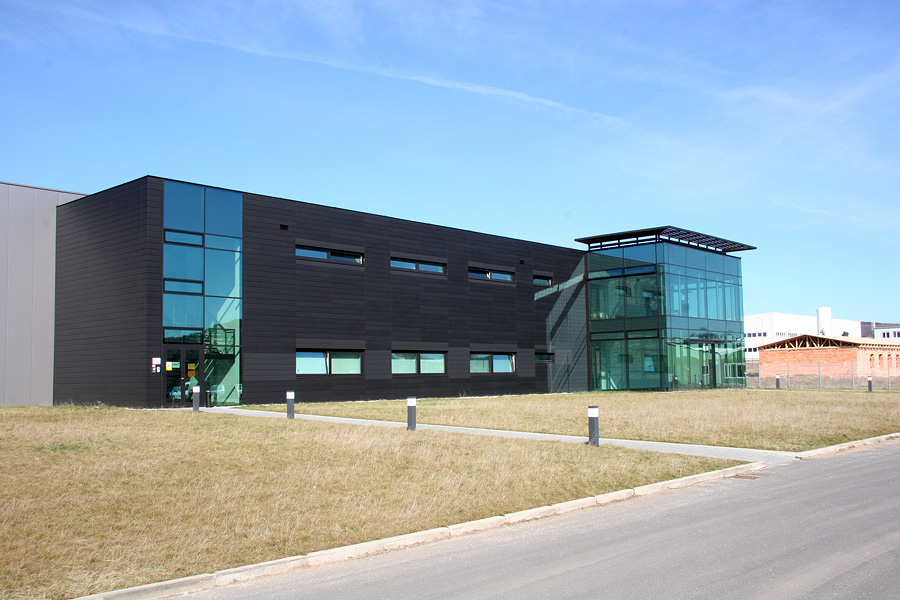 We provide design, production documentation, manufacture of steel structures and assembly of Industrial turnkey Halls. The assembly of halls and other steel structures provides division "Industrial Turnkey Halls." This division focuses on supplying of Cranes and Handling vehicles including planning of internal logistics layout. We are also able to supply Rails including project.
Industrial Halls are manufactured and assembled in a variety of sizes and shapes. Especially proposal of the project and manufacture according to customer requirements.
Standard steel structures are manufactured in 6 m modules (length = multiple of the module) and a width according to customer requirements (up to a span 40 m without a vertical internal column).
Industrial Hall are delivered according to the type and purpose. Hall is possible to produce and supply as non-insulated, insulated with PUR foam panels, mineral wool or as steel sandwich plates, appropriate insulation thickness and outside sheets in a predetermined RAL shade. It is also possible to use materials such as glass, hardened glass for stairways, skylights and various design shells and roofs.
We can offer following services:
Proposal and design of Industrial halls constructions
Static opinions for ourselves designed constructions
Processing of production documentation also for external projects
Manufacture of Steel Structures of Industrial halls and Warehouses, Buildings, Stairs, Roofing, Service and Oil platforms, Bridges, Steel towers, Chimneys and other mechanical elements
Assembly of steel constructions
Supply and installation of roof and walls
Supply and installation of plumbing and flashing elements
Installation of skylight structures
Ensuring the supply of gates and windows for Industrial buildings
Repair and reconstruction of old steel structures
Rental of Mobile Cranes
We own following equipment:
Diesel Assembly Platform
Electric Assembly Platform
Lightweight mobile scaffolding
Diesel Forklift
Electric Forklift
Vacuum Lifter of Sandwich Panels
Mobile Crane Grove 35 t
Mobile Crane TATRA AD 20 t
Mobile Crane TATRA ADS 20 t
Mobile Crane with 4-piece Telescopic boom and Construction adapter is designed for medium-sized construction and assembly work, even in difficult terrain. The Crane superstructure is mounted on the proven excellent undercarriage TATRA T-815 14 P 26 208 6x6.
Parameters of Mobile Crane AD 20 t

| | |
| --- | --- |
| Length (mm) | 9400 |
| Width (mm) | 2500 |
| Height (mm) | 3850 |
| Width with extended supports (mm) | 5500 |
| Total weight (kg) | 23 630 |
| Lifting Capacity (kg) | 20 000 |
| Length of base boom (mm) | Retracted: 7800 / Extended: 21300 |
| Length of the Boom with extenders (mm) | 27 800 |
| Max. Lift height of the Crane Hook (mm) | 29 000 |
Mobile Crane Grove GMK 2035
Mobile Crane Grove with Lifting capacity 35 t is a powerful Crane for common work with quick boom on a short two-axle undercarriage. It is simple and deft crane. Reach of the Hook with hinged truss adaptor is up to 44 m.
Parameters of Mobile Crane Grove 2035

| | |
| --- | --- |
| Length (mm) | 10300 |
| Width (mm) | 2500 |
| Height (mm) | 3430 |
| Gauge (mm) | 3775 + possibility Axles slewing |
| Width with extended supports (mm) | 5500 |
| Total weight (kg) | 23 925 |
| Lifting Capacity (kg) | 30 000 on the reach 2,5 m |
| Length of base boom (mm) | 29000 |
| Telescopic Boom | 8.9 - 29 m |
| Additional Boom | 8.5 - 15 m |
| Angle of Additional Boom | 0° - 40° |
| Wheel Drive | 4x4x2 |
Service of Handling equipment
We offer also a service of Mobile Cranes including Handling Accumulators, Pneumatic vehicles and Crane Rails.
Further we offer maintenance of electrical and manual Hoists from different producers. This services also includes assembly and repair of Wiring, Switch-boards, Trolley lines, Revision tests of Lifting equipment and geodetic survey.
It is also possible to enter Service Contract allowing a significant advantage for customers, especially in the speed of repair, because we keep continuous Emergency Service. Service Cars are equipped with Tools and Spare parts to ensure quick repair of failure. Common Spare parts of the Verlinde and Hopax products are stored in our storage at Headquarter. Other spare parts are delivered directly from the manufacturer as soon as possible.