VV - Towing Rail Vehicles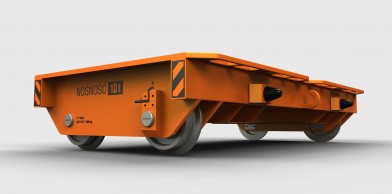 Towing vehicles are especially designed for manipulation of lighter loads. The loading capacity is usually between 5-20 tons for the manual pushing. If required to pushing the vehicle over 15 t, it is used Locomotive to achieve the necessary acceleration and braking force. Vehicles are commonly used in paint shops, furnaces, blasting boxes, in the manufacture of ceramics, glass and other similar operations. It is also possible to use vehicles in areas with explosive atmosphere ATEX EX II. A Vehicles can be joined together. The main disadvantage is the limited flexibility and the use of external pushing and braking force. It is also possible to install a pneumatic drive.
Towing vehicles are produced in following types. This line can be extended according to customer requirements.
Type
Loading capacity (t)
Standard size of Platform (mm) width x length
Gauge (mm)
VV
10
2000 x 3000
2000 x 3500
2000 x 4000
1435
1435
1435
VV
20, 30, 40
2000 x 3000, 4000
2000 x 5000, 6000
2500 x 5000, 6000
1435
1435
1435
Technical description
Braking pedal
Connection pin
Stops
Handle points for manual push
Brake axle
Platform with non-slip surface
Protective frame
Descriptions and Label
Base frame
The vehicles are supplied in the standard version without foot Parking Brake. If the Brake is supplied, it serves only as a Parking Brake to brake the vehicle in the rest position. The surface treatments are following: two-component Polyurethane paint, Fireclay Paneling for conditions with high temperatures or Galvanized Surface.
Chassis is not suspended due to low handling speed 50 m / min." For loading capacity over 50 t is necessity to use Yoke axles for steady spread of forces to the chassis rail. Designers guarantee all parameters according to current applicable EU standards. Part of delivery is Operating manual in relevant language and Declaration of Conformity.
Technical parameters
| Parameter | Value |
| --- | --- |
| Length (mm) | See Table of produced types |
| Width (mm) | See Table of produced types |
| Height (mm) | from 500 up to 800 |
| Gauge (mm) | 1435, 1520 |
| Surface treatment | Polyurethane paint, Galvanized structure |
| Upper Platform | Steel sheet, Plywood rubber coated |
| Accessories I. | Parking Brake |
| Accessories II. | Pole - according to customer request |
| Accessories III. | Handles for manual pushing - only for vehicles up to 5 t |
Advantages
Easy manipulation and simple control of Parking brake
High lifetime of components
Zero Operating Costs
Minimal spread of weight
Rigid structure
Certifications and documentation
Declaration of Conformity
Guarantee Card
Operation and Maintenance Manual
Guaranteed Quality politics according to ISO 9001, ISO 14001, ISO 18800, DNV for Offshore Manipulation Equipment
All vehicles are designed according to valid EU standards
Accessories
Parking Brake
Pole and Hooks for pushing
Safe bunks
Turn table
Locking Pins
Handles for manual pushing
Non slippery Platform
Manually lifting upper Platform
Holes for falling down of Shots in Blasting box